TETSUJIN – AUDIO VISUAL / 高橋哲人・モシ村マイコ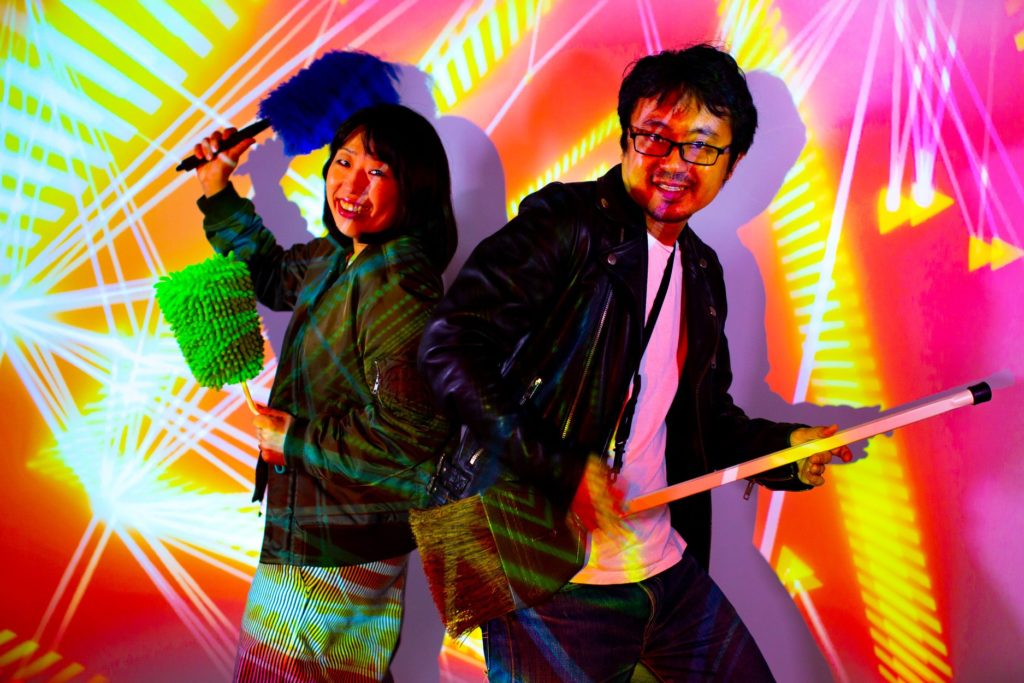 TETSUJIN – AUDIO VISUAL(テツジンオーディオヴィジュアル)は髙橋哲人とモシ村マイコによる音楽と映像と楽器で世界を彩るアートユニットです。作品毎に世界観や哲学を伝える為の楽器を設計し、観客が作品に参加すると音と映像によって空間や人の関係性に変化が起こります。その体験を通して生きる事や人と人とのつながりを考え、社会をアップデートしていけるような作品を目指しています。
TETSUJIN – AUDIO VISUAL is audio visual art unit of Tetsuto Takahashi and Maiko Moshimura.
We give colors to the world with music, images and instruments. We design musical instruments for each work to express concepts and our philosophy.
Appreciators play that, then Space and relationship between people and people will change due to audio and visual. Thinking about "what is life" and "connection between one and others", we aim to create works that can update society.
---
■ 受賞歴
2023 Jan. 異能β(総務省公認のへんなひと)の称号を授与
2021 Nov. 異能vation 破壊的な挑戦 採択
2020 Dec. ヒーローズリーグオンライン2020, オンラインヒーロー賞
2020 Nov. 異能vation, 一般社団法人ナレッジキャピタル企業特別賞
2019 Dec アジアデジタルアート大賞展FUKUOKA アジアデジタルアート大賞グランプリ& インタラクティブアート部門大賞 / 福岡県知事賞 / 総務大臣賞
2019 Aug. 題名のない音楽会「オーケストラと夢をかなえる音楽会~夢響2019」 ,スペシャルドリーマー賞
2019 Mar. 北九州デジタルクリエーターコンテスト2019 , 小林茂 審査員賞
2019 Feb. 第14回 TAGBOAT AWARD , 塩入敏治 審査員特別賞
2018 May. IAG AWARDS 2018, オーディエンス賞
2018 May. SICF19 , オーディエンス賞
2017 Dec. 2017 アジアデジタルアート大賞展 インタラクティブアート部門 , 優秀賞
2017 Dec. ものづくり文化展 2017 FabCafe賞
2017 Dec. Mashup Awards 2017 インタラクティブデザイン部門, オーディエンス投票1位
2017 Dec. Mashup Awards 2017, 土井賞
2017 Dec. Mashup Awards 2017, まなみん賞
2017 Oct. WIRED CREATIVE HACK AWARD 2017 , ソニー賞
2017 Mar. 北九州デジタルクリエーターコンテスト2017 , 中谷日出審査員賞
2016 Dec. 2016 アジアデジタルアート大賞展 インタラクティブアート部門 , 入賞
2014 Dec. 2014 アジアデジタルアート大賞展 インタラクティブアート部門 , 優秀賞
■ 展示

2023 Mar. JAPAN INNOVATION DAY 2023, 赤坂インターシティコンファレンス
2023 Jan. Open異能vation, 東京ミッドタウン日比谷 BASE Q 6階イベントスペース
2021 Aug. ランデヴープロジェクト in 多摩 アート⇄ピクニック展,立川 " GREEN SPRINGS " TAKEOFF-SITE
2021 Jan. クリエイティブな1日を過ごそう,ココキタ
2020 Feb. BAM Teknopolis 2020, Brooklyn Academy of Music, New York, US
2019 Aug. 遊べる!デジタルアート展2019, アクロス福岡
2019 May. 池袋回遊派美術展, 東京藝術劇場
2019 May. Tagboat Award Selected Exhibition, Shun Art Gallery,上海
2019 May. SICF19 Winners Exhibition, スパイラル
2019 Mar. サウンドオブサイエンス,あすたむらんど徳島
2019 Feb. 14th TAG BOAT AWARD, 世田谷ものづくり学校
2018 Nov. スマートイルミネーション横浜2018, 象の鼻パーク
2018 Sep. The Creators, 福岡市役所前ふれあい広場
2018 Aug. 遊べる!デジタルアート展2018, アクロス福岡
2018 May. IAG AWARDS 2018, 東京藝術劇場
2018 May. SICF19, スパイラルホール
2018 Feb. 2017 アジアデジタルアート大賞受賞作品展, 福岡アジア美術館
2017 Dec. MA2017 Interactive Design体験展示, LODGE by Yahoo! Japan
2017 Sep. Autodesk University Japan 2017, ヒルトン東京お台場
2017 Aug. 遊べる!デジタルアート展2017, アクロス福岡
2017 Mar. 2016アジアデジタルアート大賞受賞作品展, 福岡アジア美術館
2016 Aug. 遊べる!デジタルアート展2016, アクロス福岡
2016 Jul. 高遠 KONJYAKU STORY展, 信州高遠美術館
2015 Aug. 浦上天主堂プロジェクションマッピング, 長崎浦上天主堂
2015 Aug. 遊べる!デジタルアート展2015, アクロス福岡
2015 Feb. 2014 アジアデジタルアート大賞受賞作品展, 福岡アジア美術館
2013 Dec. Merry X'mas! You're Dish Jockey !!!, Barden Barden
■ パフォーマンス

2023 Jan, 「晴れの国FARM FES IN TAMANO」, 岡山県玉野市おもちゃ王国駐車場
2022 Oct. 道後オンセナート ハダカヒロバ秋祭り2022「Rock♨湯」, 飛鳥乃湯前ハダカヒロバ
2021
2019    Aug. 題名のない音楽会「55周年令和記念コンサート」 , サントリーホール
2019    Aug. 題名のない音楽会「オーケストラと夢をかなえる音楽会~夢響2019」 , オペラシティコンサートホール
2019    Jun. 「神2Night」 ,青山Commune 2nd
2019    Mar. 「Masumi Night」 ,and the kitchen
2019    Mar. 「Kyoto Steam -世界文化交流祭-」 ,京都モダンテラス
2017    Aug.  演劇パフォーマンス 「ホウキギターでロック☆スター」 , アクロス福岡
■ ワークショップ

2023 Jan.心を合わせて音を合わせる,青山製図専門学校
2022 Oct.道後風呂桶楽団ワークショップ, 愛媛県道後温泉飛鳥乃湯
2019    Aug. 清掃楽器でバンドしよう♪,横浜市立大学病院小児病棟
2019    Aug. 清掃楽器でバンドしよう♪,自由学園明日館
2018    Aug. 描いた絵と音を一緒に演奏しよう,自由学園明日館
2018    Aug. くだもの楽器でドンツンパン, アクロス福岡
2017     Jan. VR+インタラクティブコンテンツ制作セミナー, ダイキン
2016    Aug. オーディオビジュアルアニメーションワークショップ, アクロス福岡
2016    Jul. オーディオビジュアルアニメーションワークショップ, 信州高遠美術館
■ メディア 

2023 Mar. Ascii Start UP 「JAPAN INNOVATION DAY 2023出展企業紹介」
2022 Oct. ニュース「Rock♨湯」,あいテレビ
2022 Oct. 愛媛新聞,「温泉楽器オーケ(桶)ストラ」
2021 Aug,FM立川 ウイングテラス「アート⇄ピクニック展」
2021 Aug,立川昭島号外ネット「こんなピクニックしてみたい」,Webメディア
2020 Nov. 2020秋の記憶 芸術家達の想いを聞く「#5 TETSUJIN-AUDIO VISUAL」アートマネジメントオフィスアホイ! Youtubeチャンネル
2020 Oct. めざましテレビ「キラビト!」, フジテレビ
2019   Nov.    News Link「掃除用具で音楽会」, テレビ神奈川
2019   Nov.    東京新聞 「小児病棟で掃除道具が楽器に変身♪」
2019   Aug.    はっけんTV「あそべる!デジタルアート展」NHK
2019   Aug.    ろくイチ!福岡「五感を刺激!デジタルアート展」NHK
2019   Aug.    ふくサテ!「デジタルアート展 大盛況!」テレQ
2019   Aug     毎日新聞
2019   Aug     西日本新聞
2019    Oct.   テレ朝POST「掃除用具でオーケストラと共演!」
2019    Oct.    題名のない音楽会ブログ「音楽界の帰り道」
2019    Oct.    題名のない音楽会「オーケストラと夢をかなえる音楽会~夢響2019」 , テレビ朝日
2019    Aug.    今日感ニュース「遊べる!デジタルアート展」 , RKB
2019    Aug.  「遊べる!デジタルアート展 」, NHK
2019    Feb.    サウンドオブサイエンス, 徳島新聞
2018    Oct.    News ZERO「スマートイルミネーション横浜」, 日テレ
2018    Oct.    News Link「スマートイルミネーション横浜」, テレビ神奈川
2018    Oct.    The Creators「Drum☆Star」, RKB毎日放送
2018    Sep.    CGWORLD「デジタルアーティスト×インタラクティブアート 」, ワークスコーポレーション
2018    Aug.    nextクリエイターズ「ホウキギター」, 日テレ
2017    Dec.    Redshift「音と映像、身体性のインタラクティブアート」, Autodesk
———————————————————————————–
■ Awards
2020 Dec. Hero Grand Prix Award, Helo's League Online 2020
2020 Nov. Knowledge Capital Special Award, Innovation
2019 Dec. Asia Digital Art Award Grand Prix Award
& Interactive Arts Grand Award / Fukuoka Governor's Award / The Minister of MIC
Asia Digital Art Award FUKUOKA 2019
2019 Aug. Special Dreamer Prize, at TV program Untitled Concert "Yumekyou 2019"
2019 Mar. Shigeru Kobayashi Jury Award at Kitakyushu Digital Creator Contest 2019
2019 Feb. Toshiharu Shioiri Jury Special Award, at 14th TAG BOAT AWARD
2018 May. Audience Award ,at IAG AWARDS 2018
2018 May. Audience Award , at SICF19
2017 Dec. Excellence Award , at 2017 Asian Digital Art Awards FUKUOKA Interactive Art Division
2017 Dec. FabCafe Award , at Cultural Exhibition 2017
2017 Dec. Audience vote 1st prize , at Mashup Awards 2017 Interactive Design Division
2017 Dec. Nobuhiro Doi Award , at Mashup Awards 2017
2017 Dec. Manamin Award , at Mashup Awards 2017
2017 Oct. Sony Award , at Wired Creative Hack Awards 2017
2017 Mar. Hide Nakaya Jury Award , at Kitakyushu Digital Creator Contest 2017
2016 Dec. Prize , at 2016 Asian Digital Art Awards FUKUOKA Interactive Art Division
2014 Dec. Excellence Award , 2014 Asian Digital Art Awards FUKUOKA Interactive Art Division
■ Exhibition
2020 Feb. BAM Teknopolis 2020, Brooklyn Academy of Music, New York, US
2019 Aug. Kids Digital Art Land 2019, Across Fukuoka, JAPAN
2019 May. IAG Selected Exhibition, Tokyo Metropolitan Theatre , JAPAN
2019 May. Tagboat Award Selected Exhibition, Shun Art Gallery, Shanghi, CHINA
2019 May. SICF19 Winner Exhibition, Spiral , JAPAN
2019 Mar. Sound of Science, Asutamu Land Tokushima, JAPAN
2019 Feb. 14th TAG BOAT AWARD, Ikejiri Institute of Design, JAPAN
2018 Nov. Smart Illumination Yokohama 2018, Zou-no-hana Park, JAPAN
2018 Sep. The Creators, Fukuoka city hall Fureai park, JAPAN
2018 Aug. Kids Digital Art Land 2018, Across Fukuoka, JAPAN
2018 May. IAG AWARDS 2018, Tokyo Metropolitan Theatre, JAPAN
2018 May. SICF19, Spiral, JAPAN
2018 Feb. 2017 Asian Digital Art Awards Exhibition, Fukuoka Asian Art Museum, JAPAN
2017 Dec. Mashup Awards 2017 Interactive Design Exhibition, LODGE by Yahoo! Japan, JAPAN
2017 Sep. Autodesk University Japan 2017 , Hilton Tokyo Odaiba, JAPAN
2017 Aug. Kids Digital Art Land 2017, Across Fukuoka, JAPAN
2017 Mar. 2016 Asian Digital Art Awards Exhibition, Fukuoka Asian Art Museum, JAPAN
2016 Aug Kids Digital Art Land 2016, Across Fukuoka, JAPAN
2016 July Takato KONJYAKU STORY Exhibition, Shinshu Takato Museum of Art, JAPAN
2015 Aug. Urakami Cathedral Projection Mapping, Nagasaki Urakami Cathedral, JAPAN
2015 Aug. Kids Digital Art Land 2015, Across Fukuoka, JAPAN
2015 Feb. 2014 Asian Digital Art Awards Exhibition, Asian Art Museum, JAPAN
2013 Dec. Merry X'mas! You're Dish Jockey !!!, Barden Barden, JAPAN
■ Performance
2019 Aug. Untitled Concert "55th Anniversary concert" , Suntory Hall, Tokyo, Japan
2019 Aug. Untitled Concert "Yumekyou 2019" , Tokyo Opera city hall , Tokyo, Japan
2019 Jun. Jin2 Night ,Aoyama Commune 2nd, Tokyo, Japan
2019 Mar. Masumi Night ,and the kitchen, Tokyo, Japan
2019 Mar. Kyoto Steam-World Culture Exchange Festival-, Kyoto Modern Terrace, Kyoto, Japan
2017 Aug. You are Rock☆Star! with the Broom Guitar, Across Fukuoka, Fukuoka, Japan
■ Workshop
2019 Aug. Let's Session by Cleaning Musical Instruments, Yokohama City University Hospital, Kasnagawa, Japan
2019 Aug. Let's Session by Cleaning Musical Instruments, Jiyu campus Myounichi hall, Tokyo, Japan
2018 Aug. Let's play your drawing & voice, Jiyu campus Myounichi hall, Tokyo, Japan
2018 Aug. Fruit Instruments Don-Tsun-Pan! , Across Fukuoka, Fukuoka, Japan
2017 Jan. VR+Interactive contents making seminar, DAIKIN INDUSTRIES, Ltd., Tokyo, Japan
2016 Aug. Let's make animation from sound you heard, Across Fukuoka, Fukuoka, Japan
2016 Jul. Let's make animation from sound you heard, Shinshu Takato Art Museum, Japan


■ Media
2019 Oct. TV program – Untitled Concert "Yumekyou 2019" , TV Asahi Corporation
2018 Oct. News program- News ZERO "Smart Illumination Yokohama", Nippon Television Network Corporation
2018 Oct. News program – News Link "Smart Illumination Yokohama", Television KANAGAWA, Inc.
2018 Oct. TV program – The Creators"Drum☆Star", RKB Mainichi Broadcasting Corporation
2018 Sep. Magazine – CGWORLD "Digital Artists x Interactive Works", Works Corporation
2018 Aug. TV program – next Creators "Broom guitar", Nippon Television Network Corporation
2018 Aug. TV program – "Kyoukan TV" , RKB Mainichi Broadcasting Corporation
2017 Dec. Web Magazine – Redshift"Audio and Visual, physicality Interactive art", Autodesk
2017 Oct. TV program – The Creators"Drum☆Star", RKB Mainichi Broadcasting Corporation